Anna Nicole's baby daddy Birkhead denies 'deal' with Howard K. Stern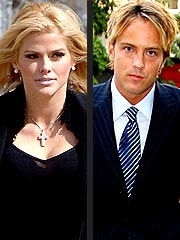 Larry Birkhead says he did not make any deal with Howard K. Stern to gain his support after it was revealed that Birkhead is the father of Anna Nicole Smith's daughter Dannielynn.
Birkhead told Access Hollywood "there's no deal."
"For a deal, you have to offer someone something in exchange," Birkhead said. "There's been no 'If you do this, then I will give you the baby' or anything like that. Paternity was established and there's really nothing to negotiate."
Meanwhile, Dannielynn remains in the Bahamas with Howard K. Stern who is listed on the birth certificate as her father.
Stern and Birkhead will both be back in court on Friday where a judge is expected to address custody issues. Birkhead may stand a challenge from Anna Nicole's estranged mother Virgie Arthur.
Birkhead told Today that he did not want to share custody with another party, be it Stern or Arthur as "it would imply that I'm unfit as a parent, which I'm not."