Audiogasm New Music Review: Sandra Colton - "Just Dance"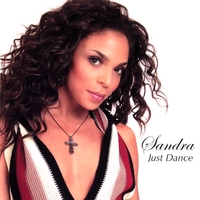 Anyone who is an avid viewer of Fox's hit TV show "So You Think You Can Dance" will probably recognize the female fireball Sandra Colton from a few season back. Ever since her debut on the show she has been busy, touring the nation gaining fans and performing at big venues like The Viper Room, Key Club, Cabana Club, and White Lotus. Her combination of dance moves and singing voice have gotten her the description of being "a cross between Appelonia, Janet Jackson, Cassie, and Marilyn Monroe." I got my hands on her album "Just Dance" (released February 14th) and had a listen.
The tracks touted as her hit songs are "Boom Crack," "STRUT," and "Sugar," so these are the ones I checked out first. Of the three, "Boom Crack" was the one that stood out as a fun song. It has a hard beat that would be a blast to dance to, and as Sandra is an accomplished dancer, I can see why she chose it.
I do want to make a note, all of the songs on the album were written or co-written by Sandra herself, which is definitely worth mentioning as it seems to be a rarity in the music industry at large, and especially in the R&B category.
But back to the music. While "Boom Crack" offers a great beat and some fun lyrics, in general you can tell that it is Sandra's musical debut. She stays in her head voice (high range for the musically disinclined) for the majority of her singing, hilighting the fact that she has performed as a backup singer/dancer. Her singing is great, though if she brought her vocal tone into the lower melodic range, it could be a whole lot better.
My only other complaint about the album was the lack of melody. Granted, in the musical genre that this album falls into, melody is often foregone for more driving and danceable beats, almost developing the beat itself into a type of melody. But this seems to be the case for the majority of the album. Bringing some more instrumentals and blending them with the great dance beats would add a new dimension to the music, making it a whole lot more listenable.
All that being said, Sandra shows some awesome potential. She has worked her pretty little butt off, forcefully climbing the ladder to musical success . Releasing this debut album will showcase that potential and undoubtedly skyrocket her upward. Once she begins to meet that potential and fill out her musical skills, Sandra will definitely be a musical force to pay attention to.