Paris Hilton speaks with Larry King and PEOPLE mag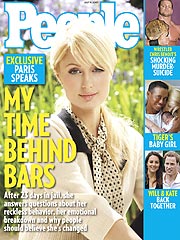 In her first television interview since getting out of jail, Paris Hilton will speak with Larry King on Wednesday night.
Most expect that Paris will tell Larry King she is a changed woman. Hilton did two interviews while she was behind bars. She called both Barbara Walters and Ryan Seacrest from the slammer telling them that jail has made her a better person.
"I want to help build a transitional home so that when inmates leave here they don't have to go back to the street," she told E! News' Ryan Seacrest from jail last week.

"I used to act dumb. It was an act. I am 26 years old, and that act is no longer cute," Hilton told ABC News' Barbara Walters.
Hilton also spoke with PEOPLE magazine on news stands Friday.
On her medical condition:
"The doctors were observing me while I was there. They explained to Sheriff [Lee] Baca that they thought I was having severe anxiety, panic attacks, claustrophobia."

On people who doubt that she will change after her jail experience:
"They're wrong and they don't know me. I'm a good person. I'm a compassionate person. I have a big heart. I'm sincere, and they'll see."

On getting out:
"Just being able to hug my mom felt so great, and I really needed it 'cause I haven't had a hug in a long time."
Hilton also told PEOPLE that she was "shocked" by the attention given to her case.
To help save her image, Paris has hired crisis-management expert Michael Sitrick, whose Los Angeles firm has represented talk-show host Rush Limbaugh, singer R. Kelly and drummer Tommy Lee.
Hilton's Larry King Live airs Wednesday night at 9pm on CNN.