Paternity results report: Eddie Murphy is Scary Spice's baby daddy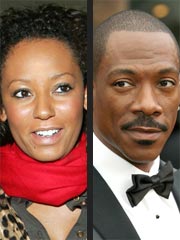 The results are in, and it's official! Eddie Murphy is the father of Melanie Brown's 2-month old baby.
"He's the baby's father, it's official," a source close to Brown told PEOPLE. "The baby is undoubtedly, 110 percent his."
Brown, aka Scary Spice, gave birth to Angel Iris Murphy Brown on April 3 and says she always knew that Murphy is the child's father.
Scary and Eddie dated last summer, but in December Murphy told a Dutch TV show that he was no longer seeing Brown and said, "I don't know whose child that is until it comes out and has a blood test."
Murphy initially refused to take a paternity test, and according to Mel B, Eddie has never seen the baby.
Dead-beat dad or what?!